Green Square Construction Cam- Click here to see Watco at work!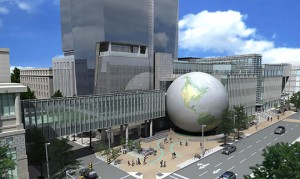 Watco is proud to have been chosen as the HVAC/Mechanical Contractor for the Nature Research portion of this fantastic project!!!
An exciting new development is on the way in Downtown Raleigh that will greatly enhance the already outstanding "museum corridor." The North Carolina Nature Research Center has been underway for the last several months and promises to offer one of the most unique interactions with science on the east coast.
An extension of the North Carolina Museum of Natural Sciences, the Nature Research Center will give visitors a first-person look into the actual science taking place within the museum, reminding us that it's not just about realistic displays encased in glass. It's about real science.
The expansion is 80,000 square feet and is expected to open in early 2012. It's exterior will showcase a giant, street-side globe that will house a multi-media presentation theatre able to broadcast actual exhibits and events to schools around the state.
Additionally, the Nature Research Center is part of Raleigh's "Green Square," a collection of highly energy-efficient state owned museum property that will also include a parking deck and new, 149,000 square foot building for the Department of Environment and Natural Resources.
Want to watch the progress on the construction? Check out the Web cam.
These are certainly some exciting developments for the city's urban center. Raleigh has undergone a number of massive re-development efforts in the last few years in an effort to draw more residents and businesses. So far, it all seems to be going according to plan.